On hurricane relief, water policy, climate coverage, and gun reform
Institutions Are Us
➡Curated stories, or firsthand accounts, of building or reshaping institutions, societies and worlds
Travel warnings 2.0
Mass shootings have become a terrifying, yet mind-numbing part of American life. Even so, August 2019 shocked our senses with two mass shootings in two days, in El Paso, Texas and Dayton, Ohio.
It's now reached a state where other countries are issuing cautionary notes to their citizens about America.
In a statement from their Ministry of Foreign Affairs, "Japanese residents (in America) should be aware of the potential for gunfire incidents everywhere in the United States, a gun society, and continue to pay close attention to safety measures."
Uruguay and Venezuela issued similar warnings to their citizens traveling to the United States.
➡There was a time when such travel advisories were issued in the other direction - from America, about traveling to developing nations. Is this an inevitable sign of America's increasingly violent moment in time, or a wake-up call for American society to turn the tide?
Covering climate, now
More than 250 news outlets around the world have pledged to provide a sustained amount of attention on climate change this week. The goal is to maximize coverage of the climate crisis and its impacts in the lead up to the United Nations Climate Summit on September 23.
Covering Climate Now is a joint initiative of The Nation and Columbia Journalism Review, and promises to reach a combined audience of over 1 billion people.
➡This is awareness-building singing a different tune. Will more press outlets now be banding together around the pressing issues of our time, to concentrate coverage, hoping to offer a clearer signal amid the noise of modern-day media?
Water, water, everywhere…its purity in question
America's PBS station is keeping the Flint, Michigan water crisis front and center by releasing a new Frontline documentary on it this past week. The still-unresolved Flint water crisis began in 2014, when insufficient water treatment resulted in lead leaching from water pipes into the drinking water, exposing over 100,000 residents to elevated lead levels.

International aid groups in the Bahamas are working overtime to battle the water-borne diseases that Hurricane Dorian is leaving in its wake.
And in an age-old battle between the economy vs the environment, the current US administration finalizes the repeal of a 2015 water rule that felt too restrictive to a political coalition of farmers, home builders, and developers. Critics of the 2015 rule say it gives the federal government too much power, while supporters of that rule now worry that its repeal will result in the loss of vast swaths of wetlands.
➡How much context do, or should, we give to decisions about water? It makes up 70% of the planet, and touches almost every aspect of daily life. These 3 stories highlight the knock-on effects when the overall quality of our water deteriorates.
---
BeCause We Can
➡Causes that are making the news, and/or profiles of those who work to champion them - some famous (and young), others working quietly and powerfully behind the scenes
She Said so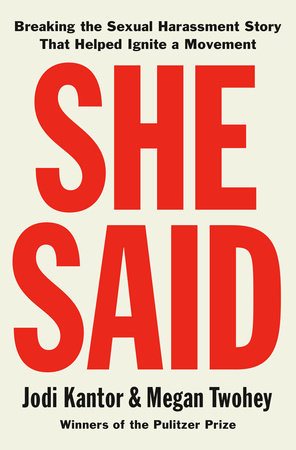 A new book appeared on the social landscape this week. She Said, by Pulitzer Prize-winning New York Times reporters Jodi Kantor and Megan Twohey, chronicles the untold story of their investigation and its consequences for the #MeToo movement.
From the book's Amazon page:
"Kantor and Twohey describe not only the consequences of their reporting for the #MeToo movement, but the inspiring and affecting journeys of the women who spoke up—for the sake of other women, for future generations, and for themselves."
➡I can't help but be moved and inspired by the explosion of the #MeToo movement, and the courage of survivors to tell their story in the face of such opposition. Is this part of the larger feminist movement, or a separate strand that needs to have agency and momentum of its own?
A 9/11 legacy
If you lived through 9/11 in some way, the anniversary of that fateful day is filled with swirling pain and unanswered questions.
This year, I'm noting two stories of how America is moving into the next phase of its 9/11 healing and understanding.
9/11 first responder Luis Alvarez had battled two things since 2001 - ensuring that the Victim Compensation Fund wouldn't run dry, and trying to outwit the cancer that riddled his body. His disease was linked to the three months he had spent at ground zero, searching for survivors and for remains of his fellow officers. He succumbed to his disease on June 29 this year, but not before he'd left a legacy of service and duty for us, and in his son.

There are the facts of a tragic moment in history…and then there are the indelible emotions. The journey of grief needs healthy doses of both, one for the mind to process and make sense of the incoherent, the other for the heart to process and find peace in the tumult. To mark the 18th anniversary of 9/11, magazine journalist and historian Garrett M. Graff took on the arduous task of compiling a perspective that had been missing from the 9/11 story - a comprehensive take on the day through the voices of the people who experienced it.

In The Only Plane in the Sky: An Oral History of 9/11, Graff begins to draw the emotional map of what happened to the citizens, and the country, of America.
Use all the levers (for gun reform)
As America digests several recent mass shootings in a row, legislators and civil society are discussing new avenues to advance the conversation on gun violence.
On Sep 12, Rep Katie Hill said in a CNN interview:
If your Members of Congress, or your Senators aren't listening, then let's put the pressure on the public companies that have to make a profit or not, and if they're losing business because of decisions that are related to gun safety, then they might have a better chance of influencing the elected officials that have been stonewalling this issue.

I think that we need to be using every tool in our toolbox to mobilize, to organize, to ensure that the message is loud and clear that the American people are not okay with the current trajectory that we're on with respect to gun violence, and we have to do something.
This was in response to a new initiative from CEOs of 145 U.S. companies, who have sent a letter to senators that advocates for gun safety legislation.
Purdue Pharma: to settle, or not to settle?
Who needs to be held accountable for a national public health crisis, and how?
This is a central question of America's opioid crisis. Decades of indiscriminate, and profit-driven, prescriptions have created an addicted nation, with few avenues for legal recourse.
In this context, a tentative settlement has emerged with Purdue Pharma, the maker of Oxycontin. Experts say the expected sum could be just a "drop in the bucket," when it comes to remedying the deadly epidemic.
---
Thoughts and Voices
➡New, or timeless, pieces from our Lead for the World Magazine and Executive Book Club podcast
Do all people-centric values have to be sacrificed at the altar of power and economic might?
News headlines are often a cause for despair and helplessness on this count. From lobbying for corporate interests, to the abuse of power in workplace sexual assault cases, there can often be little room for a justice-seeking employee to turn.
So, when I read Everybody Matters a few years ago, it painted an alternative vision for workplace cultures, one where both people and the bottom line can thrive.
I produced a podcast episode about Everybody Matters.
---
The Peaceful Leader newsletter is written and produced by Maya Mathias. Through her soulful coaching services, workshops and programs, Maya cultivates executives, civic youth, and writers for a more peaceful planet.
Thanks to the paying subscribers of Peaceful Leader who make this newsletter possible. Paying subscribers guarantee this work stays ad-free, and get a weekly bonus edition of a deeper dive into a previously featured story - offering more food for your mind, and fuel for your soul. Consider becoming a full subscriber today.